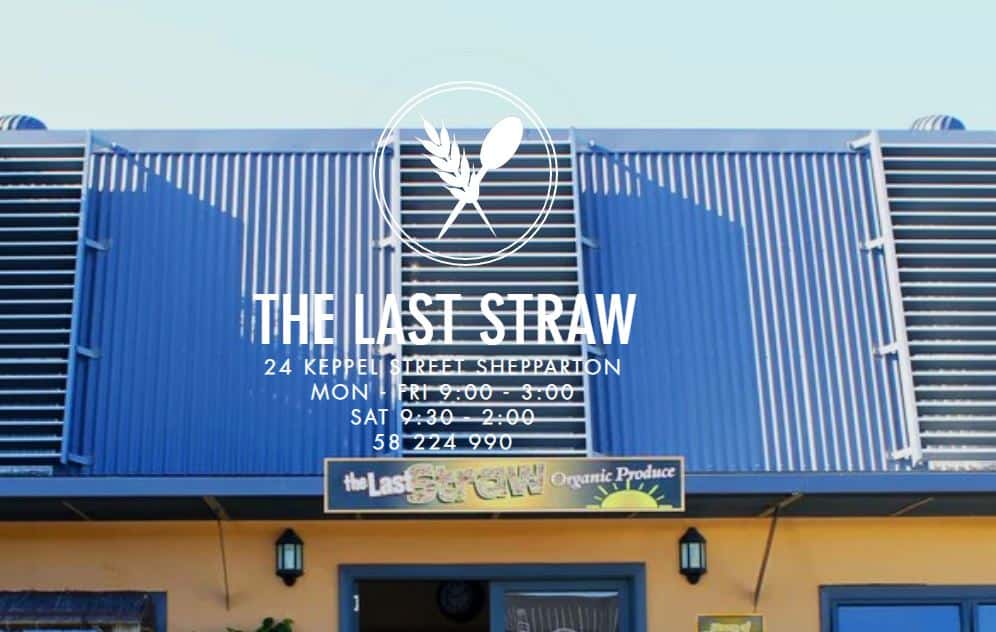 Make your visit to Greater Shepparton a dining experience. Discover a world of dining with cuisines from many corners of the globe, in settings ranging from casual to elegant. Some feature seasonal menus with exceptional regional produce matched with top local wines.
The Last Straw Café
24 Keppel Street, Shepparton, VIC 3630
Website: https://www.thelaststraw.com.au
Inside our straw walls, The Last Straw Cafe brings together earthy Thai cuisine with freshly, roasted coffee beans from around the globe.
We pride ourselves on providing traditional Thai food with fresh, locally produced ingredients. In our open kitchen we have created an environment where customers and staff engage on a personal level, which is part of the Last Straw culture.
Each day there are 4 to 5 dish choices on the menu that varies daily. All dishes are made from the freshest ingredients that are sourced daily and prepared to order.
The Last Straw is a solar passive design that is made from wheat straw bales and hand rendered with sand and lime. The thick rustic yellow render with 90 year old exposed saw-tooth trusses (from the Ardmona Cannery) and polished concrete gives the building an organic, wholesome feel while being very energy efficient.
The décor with soft coloured tones has furniture made from recycled timber, set among retro laminex tables and chairs from the 60's, as well as a 1970's functional record player.
Sprinkled around the venue are a collection of antique coffee brewing equipment and a state of the art commercial coffee roaster from Turkey. The open style kitchen is the engine room for preparing exotic Thai food made to order.
As well as the food, we also roast coffee on site. We source high quality estate green beans from exotic origins.
Each day we offer a different coffee bean origin or blend extracted in an antique coffee machine, bring the coffee flavours and characters of the work to your palette.
Lutfiye Shish Kebab
338 Wyndham Street, 3630 Shepparton, Victoria
Website: https://www.facebook.com/lutfiyes.shish.kebab
Menu: https://www.facebook.com/download/preview/936309923079451
At Lutfiyes Shish Kebab we specializes in traditional Albanian cuisine. Lutfiye's is a family business which has been in Shepparton for over 26 years. All food is cooked FRESH every day. We cook with fresh local produce. We cook with NO MSG, NO SUGAR, NO PROCESSED MEATS and NO PRESERITIVES. Just tasty wholesome food which is prepared and cooked fresh daily. We use fresh chicken breasts without skin and our stews are made with legs of lambs. For a great traditional home made meal the place to be is Lutfiye's Shish Kebab. At Lutfiye's we cater for all, we have dishes which are gluten free, dairy free and vegan friendly. Our menu includes, - Traditional Albanian rice - Vegetarian broccoli bake - Chicken curry bake - Baked marinated vegetables - Kofta stirfry Just to name a few of the 14 dishes to choose from, don't forget out famous sauces, garlic, eggplant, chilli which are all made by myself, Azem. Whether you dine in or take-away for a scrumptious Lunch or you will enjoy our fabulous food.
Thai Orchid
29 Nixon St, Shepparton, Vic, 3630 
Website: http://thaiorchidshepparton.com.au
Menu: http://thaiorchidshepparton.com.au/dine-in/
Sebastian's Restaurant
65-67 Wyndham Street, Shepparton, VIC 3630 Australia
Website: https://www.wyndhamere.com.au/restaurant
Menu: https://www.wyndhamere.com.au/assets/sebastians-restaurant-menu-october-18.pdf
Sebastians Restaurant is the place to eat whilst in Shepparton! Our chefs at Sebastians Restaurant have created a diverse menu full of flavour which reflects their passion for food. Our wine lists highlights some of the best local and regional wines, and will complement your meal perfectly.
Relax in the ambiance of our outdoor terrace in the summer months, or for those cooler nights unwind by the tabletop fire in the comfort of the lounge area. Our staff will offer exceptional service to make your evening the best it can be. Sebastians Restaurant offers a relaxed atmosphere which is perfect for an intimate dinner for two, a catch up with old friends or a family celebration. We also offer a private dining area, perfect for a dinner meeting or larger celebration.
The Teller Collective
Address: 55 FRYERS STREET SHEPPARTON, VICTORIA
Website: https://www.thetellercollective.com/
Located in Shepparton,  The Collective Restaurant is a perfect combination of exceptional food, first-class wines mixed with great company.
Headed by chef John Marsden, The Teller Collective has reimagined what it means to dine out. The menu comprises of small plates designed to share, locally sourced beef and larger plates including classics and shared feasts.
We all know that to match great food we need equally fantastic wine, so with that in mind, we have curated arguably one of the best and diverse wine menus in the area.
Bicaro's Ristorante Bar and Forno
Address: 30 North Street, Shepparton
Website: http://www.bicaros.com.au/
Menu: http://www.bicaros.com.au/menu/
Bicaro's Ristorante & Forno is a little Italian restaurant tucked away on the east side of the Shepparton business district. Bicaro's offers a delicious Italian/Australian menu, along with a wood fired oven and a generous drinks list. Bicaro's offers a unique outdoor area where you can sit under the vines and enjoy an atmosphere that you would find in Italy. Bicaro's offers two function areas – upstairs room with full bar facilities and outdoor area under the vines that also has a full bar facilities and amenitities.
If you're looking for cosmopolitan in the country, this is where you'll find it! We are known for our fantastic food and vast selection of local wines and mixed drinks, and large eating area featuring an outdoor area perfect for functions and summer dining.
For those with pure food indulgence in mind, we have something for everybody, with our menus constantly changing and inspired by seasonal and local produce. We love food, lots of different food, just like you.
Friars Café
Address: 127 Fryers Street, Shepparton
Website: https://www.friarscafe.com.au
Menu: https://www.friarscafe.com.au/menu
Situated in the heart of Shepparton, Friars Café is housed within the beautiful surroundings of a century-old church. Our warm and welcoming restaurant has earned a reputation as the place to go for breakfast, lunch and everything in between in the Goulburn Valley area.
Guests can dine both inside and outside the cafe, either upstairs or under the veranda. We also boast a number of pews downstairs, where diners can enjoy watching our talented chefs prepare dishes freshly in the kitchen.
Our seasonal menus showcase the best that the Goulburn Valley has to offer, with a selection of freshly prepared dishes made from quality local produce. Guests can enjoy a range of great tasting options for breakfast, lunch and dinner, with local wines expertly matched to our menu.
We cater to a wide range of tastes and dietary requirements, so don't hesitate to speak to our friendly team for more details on our menu today.
We use the finest local produce where possible and are able to showcase the best that Goulburn Valley has to offer.  Our menu is sure to suit every taste, with a great selection of local wines available to enjoy alongside our dishes.
Friars Café is well known for serving delicious coffees. We utilise the coveted Dimattina Prima Tazza bean, creating great tasting hot beverages that are a favourite amongst our guests.
Alongside our café dining, we offer a reliable corporate catering service that is perfect for office meetings, seminars or as a special treat for your staff.
Thai Coconut
Address: 66 High Street, Shepparton
Website: https://www.thaicoconut.com.au
Menu: https://www.thaicoconut.com.au/services
The explosive taste of Thailand is just about to be unleashed! Here at Thai Coconut, we've been harnessing the wonderful cuisine of a beautiful country with our own winning brand of skill and passion since 2007, and we've firmly established ourselves as one of Shepparton's most beloved food hotspots.
We're very pleased to be able to offer an extensive range of fresh, traditionally prepared Thai food that's bursting with vibrant colours and rich, full-on flavours. Our family-owned restaurant provides a sleek and comfortable dining environment with a scrumptious takeaway menu if you can't stick around too long.
There's something for everyone on our menu, and we hope you'll stop by soon to dig into your favourite Thai classics, or perhaps to try out an exotic new treat! We have a range of spice options available to suit all tastes, and we can provide:
Lunch and dinner
Dine in
Takeaway
Vegetarian options
Kids' meals
Desserts
Thai Coconut is a favourite amongst Shepparton's locals and visitors alike, and it's certainly a winner for delicious dishes, faultless service and the kind of joyful, relaxing atmosphere that makes dining out so special. Stop by and see for yourself!
Cellar 47 Restaurant & Wine Bar
Address: 170 High St, Shepparton VIC 3630
Cellar 47 opened in 1977 by a young man named Angelo Grasso who had a dream to open an Italian restaurant. With no experience he taught himself about food and how to provide customers with a great dining experience.
Over 40 years on, Angelo along with his wife Franca and family continue to provide exceptional meals and service in the heart of Shepparton's CBD.
Baca Love
Address: 337 Wyndham Street, Quality Hotel, Parklake, Shepparton
Website: https://www.barcalove.com/
From Smoked Brisket and Ribs to our signature Cubano, Southern comfort food and great coffee is all wrapped up in a Cuban atmosphere. As you step in you will feel like you have stepped into Old Havana with the colour, Latin rhythms and old sophistication and charm.
Owners Phil and Tina have created a buzzing environment with a perfectly relaxed charm. They would love for their customers to enjoy a complete experience, so please come in for a chat and a feed!
Specialising in gluten free food, Barca. Love aims to ensure everyone is able to come in and enjoy the flavours of this amazing food, cooked by our amazing all girl team!