What are Serviced Apartments and who needs them?
For long-term stays, serviced apartments are considered the best option. These apartments come with all the conveniences of home, but at a fraction of the price of a hotel room.
For many people, staying in a serviced apartment is like living in a real house, complete with a private bedroom, a kitchen, a laundry room, and other amenities. It provides them with the safety and comfort they require.
Shepparton has a plethora of companies that rent out fully-furnished serviced apartments for both business and pleasure. You can rent Shepparton serviced apartments that are located near the transportation hub, making it easy to get to your favourite restaurants, shopping malls, and pubs.
Renters can choose from 1, 2, 3, 4, or even a penthouse apartment in the building. These are ideal for the following purposes:
Business travelers
Business professionals often travel to another city for few weeks, renting a fully furnished apartment would take off half of their worries of getting settled in a new location. The comfort and facilities of these apartments will surely provide them the warmth of a home.
Students
Changing apartments with essential stuff is the major concern of every student. In serviced apartments, you can take along your laptop, books anything you want and can settle things according to your needs.
These apartments make shifting less complicated by making essential household items available. That means, if you visit another city just for 3 months internship or for short-term course, you can blindly trust serviced apartments for stay.
New residents
With the comfort and convenience, serviced apartments will continue to rule the hospitality industry in Shepparton. Just prepare a list of all your requirements before flying to Australia, rent an apartment in advance that best match your list and enjoy a comfortable stay.
Benefits of Fully Furnished Apartments for Temporary Stay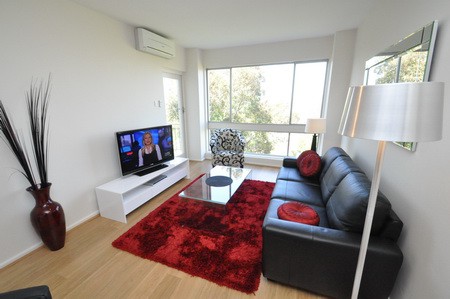 Having to stay in a hotel room for a long period of time is both expensive and uncomfortably cramped. For both business and pleasure, hotel rooms are not the best option.
As excitement wears off, you may not want to live in such a cramped space, which can have a negative impact on your productivity and enjoyment of the trip.
Apart from Shepparton serviced apartments, no hotel rooms can compare to the level of comfort provided by fully furnished apartments.
Furnished apartment rooms are larger, but do not include a kitchenette, as in a hotel room. You may end up spending a lot of money on restaurant meals as a result.
Consider the possibility of getting comfortable in your lodging if you plan to stay for a long period of time, such as a month or more.
Fully furnished homes:unlike other rental places, this type of apartments come with fully furnished rooms, with every basic thing a normal home has.
Some of the things provided in these apartments are quality of electronic appliances, well-placed furniture, and better quality service than a hotel room.
In addition to this, you can enjoy other types of amenities like free internet, cable TV connection, a swimming pool, and a gym. The facilities also depend on which type of furnished accommodation you choose.
More affordable: As compared to staying in a hotel or extended stay hotels for more than a month,Shepparton CBD furnished apartmentsare more affordable for longer trips.
Hence, furnished apartments provide a perfect balance of comfort and price for travelers who are looking for comfortable living space for a long period of time.
Fully equipped kitchen: If you choose a fully equipped kitchen, you can prepare your own meals; prepare early morning tea or coffee without leaving the comfort of your house.
This means that you can save money by not spending on restaurants or hotel menu. Due to sudden demand of serviced apartments in the real estate sector, Shepparton CBD has planned to develop more apartments, click here now for detailed information.